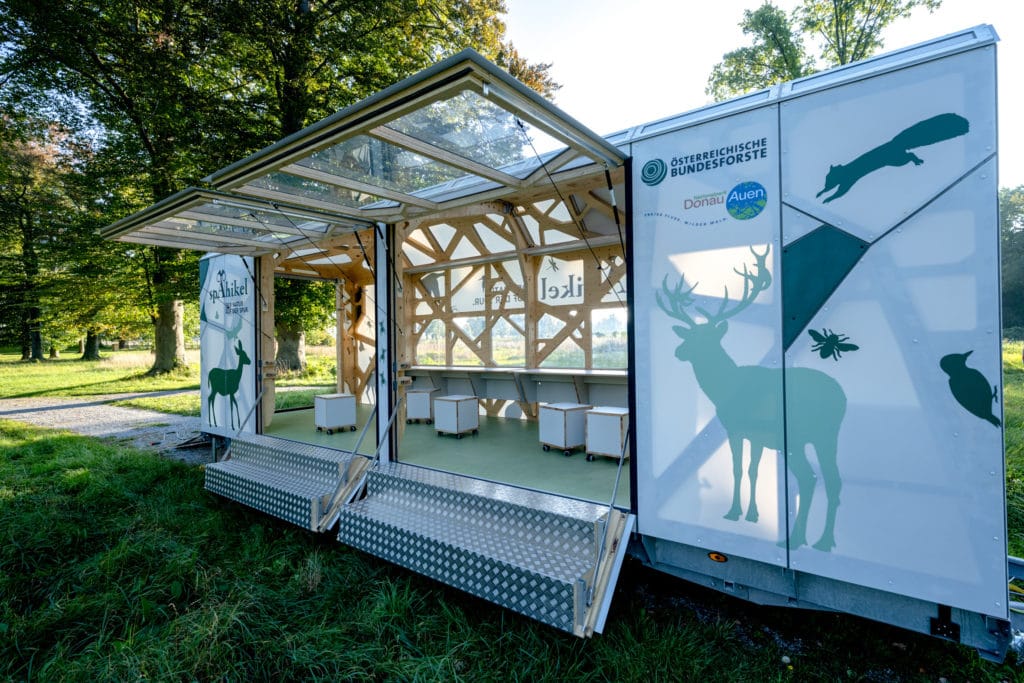 Images: © ÖBf/Kovacs / Leidorf Wood Construction
A mobile high-tech observation trolley was completed in Eckartsau Castle Park at the end of 2021. The bionic support structure made of Kerto / LVL was manufactured at Leidorf Holzbau. 
Robot joinery ideal for the project
The observation trailer has a support structure that looks like it has grown. Such complex and very sophisticated projects are ideal for our robot CNC system. The bionic structure was made of laminated veneer lumber. The design of the "Spähikel" was created by Maik Perfahl/mostlikely on behalf of the Austrian Federal Forests.
Experience nature with all senses
Experience, discover and explore nature on site with state-of-the-art technologies: With the mobile high-tech observation vehicle "Spähikel", the Austrian Federal Forests (ÖBf) are breaking new ground in nature education in the Danube Floodplain National Park.
The Spähikel offers space for up to twelve people and is at the cutting edge of science and technology. From animal voice recognition systems and wildlife cameras to drones and virtual reality goggles: The Spähikel has a network that sends high-resolution virtual reality video and audio files to the observation van.
Links to the project

"Spähikel / Bionic Kerto Pendant"