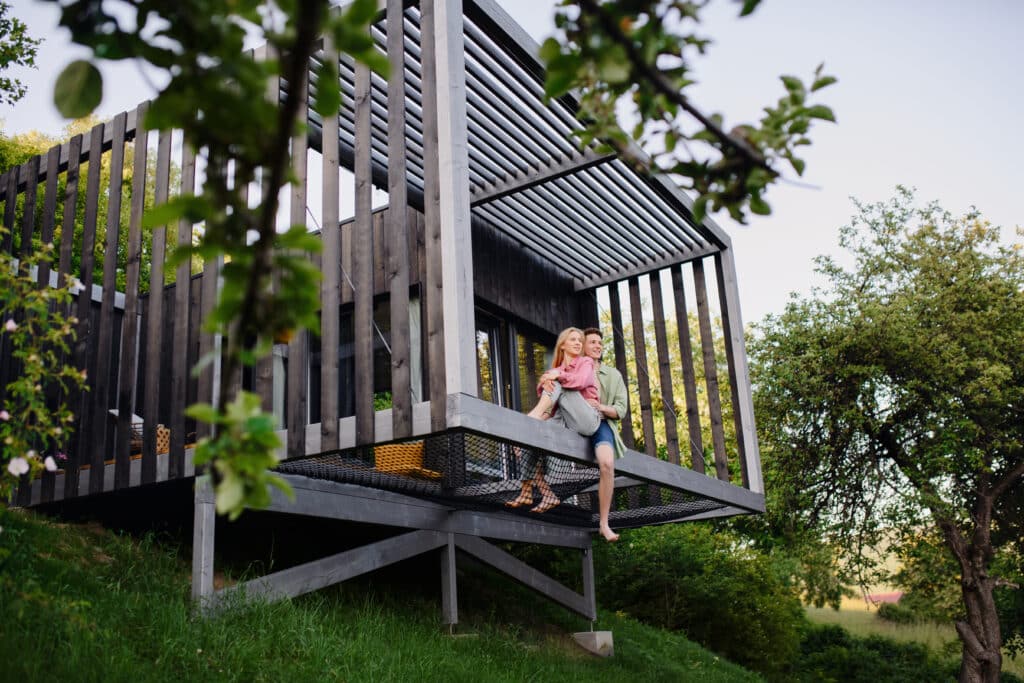 Why more and more small houses are being built
There are several reasons why the demand for Tiny Houses has increased in recent years. Here are some possible explanations:
Cost: Tiny houses are often less expensive than conventional properties. They require fewer materials and less energy to build and operate. This makes them attractive to people looking for a low-cost housing solution, especially in areas with high property prices.

Prefabrication: Due to a high degree of prefabrication, Tiny Houses can be manufactured in the factory regardless of the weather. The fully equipped module is transported to the building site. Assembly can thus take place in the shortest possible time.

Sustainability: Tiny houses are usually more energy efficient and have a smaller ecological footprint than larger houses. They require fewer resources to build and operate and can often be powered by renewable energy. This attracts environmentally conscious people looking for a sustainable housing option.

Minimalism: Tiny houses promote a minimalist lifestyle, where one concentrates on the essentials and frees oneself from unnecessary possessions. Many people see this as a way to free themselves from material ballast and live a simpler, more focused life.

Flexibility and mobility: Tiny houses offer the possibility to be flexible and live in different places. As they are compact and often built on wheels, they can be easily transported. This is attractive for people who like to travel or live in different locations without having to commit to a specific region.

Housing shortage: In some regions there is a shortage of affordable housing. Tiny houses can offer an alternative by creating living space in limited areas. This is particularly relevant in urban areas where housing is scarce.
We build your Tiny House | Modular House | Mobile Home
We would be happy to advise you or prepare an offer for your Tiny House | Modular Construction | Mobile Home project.
NEW: Leidorf Logistics founded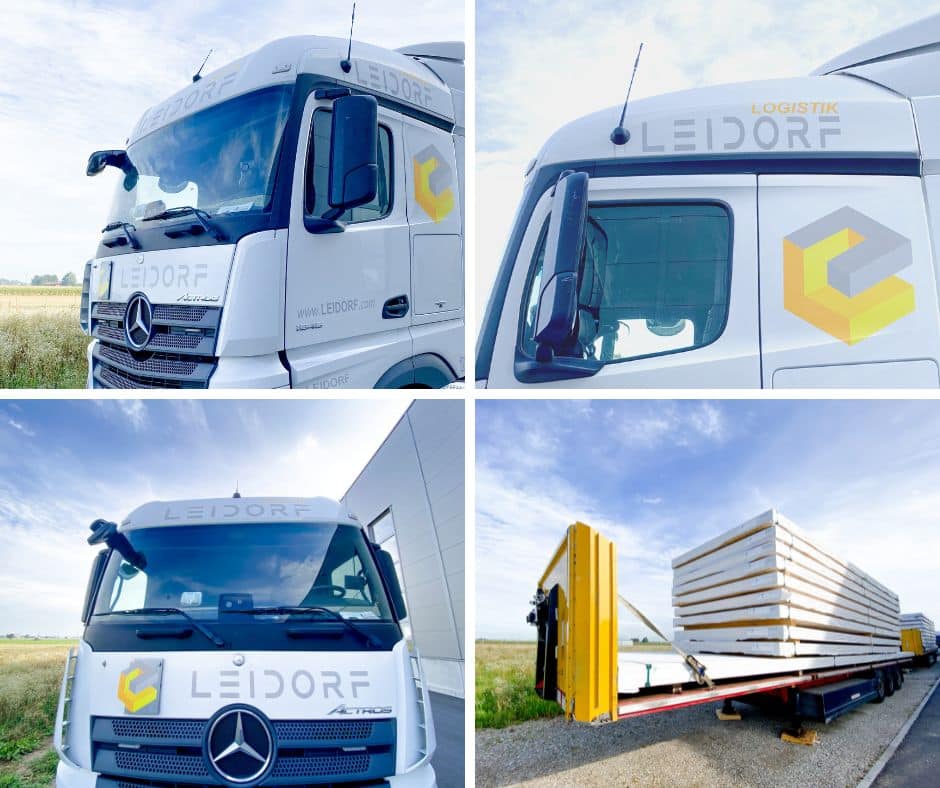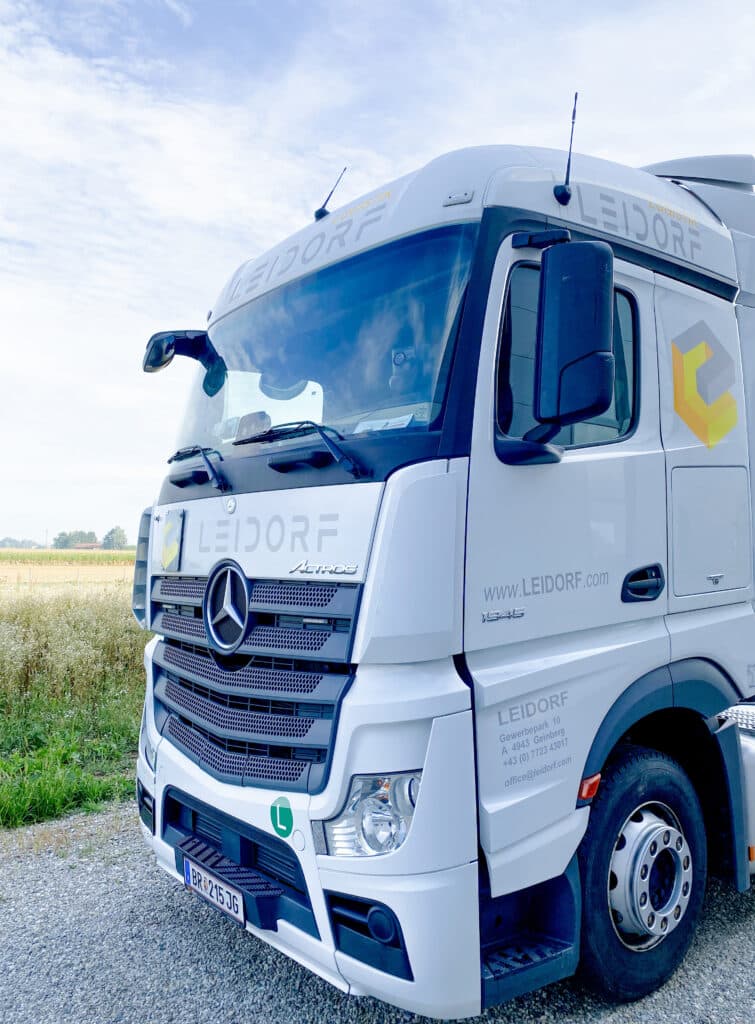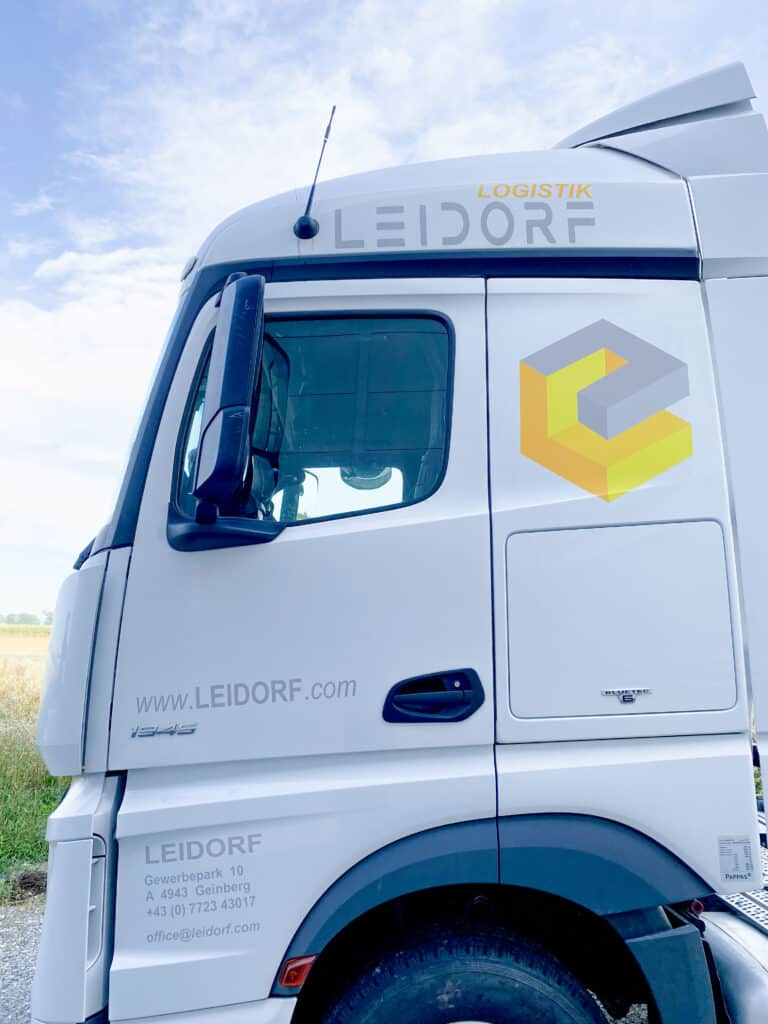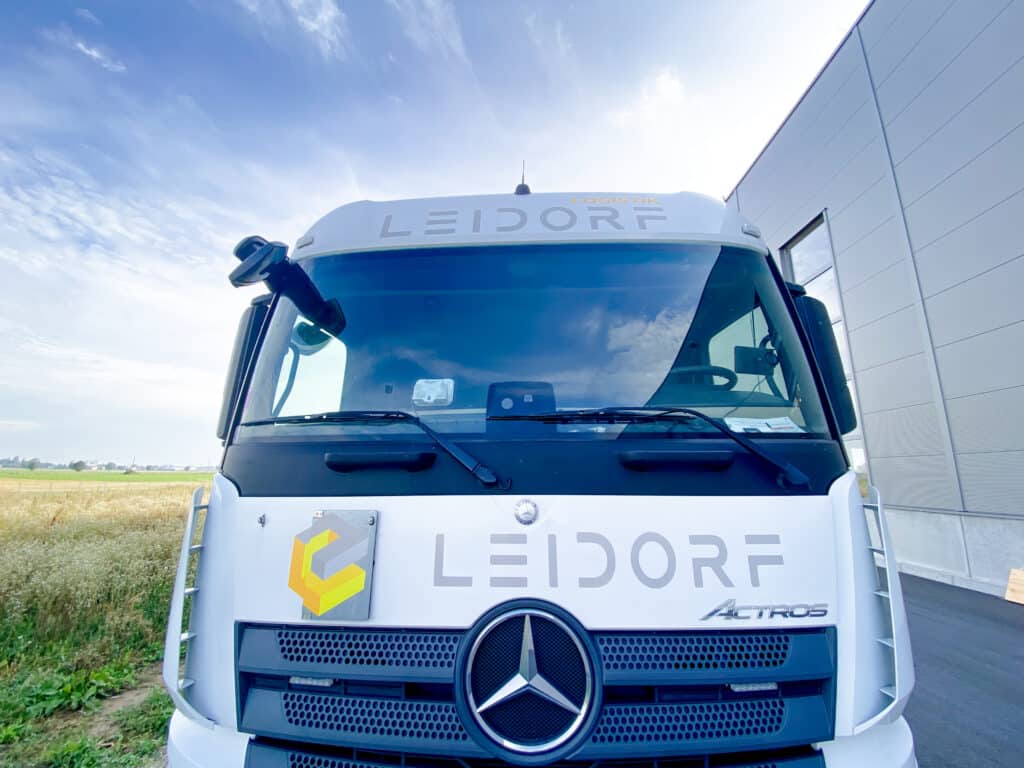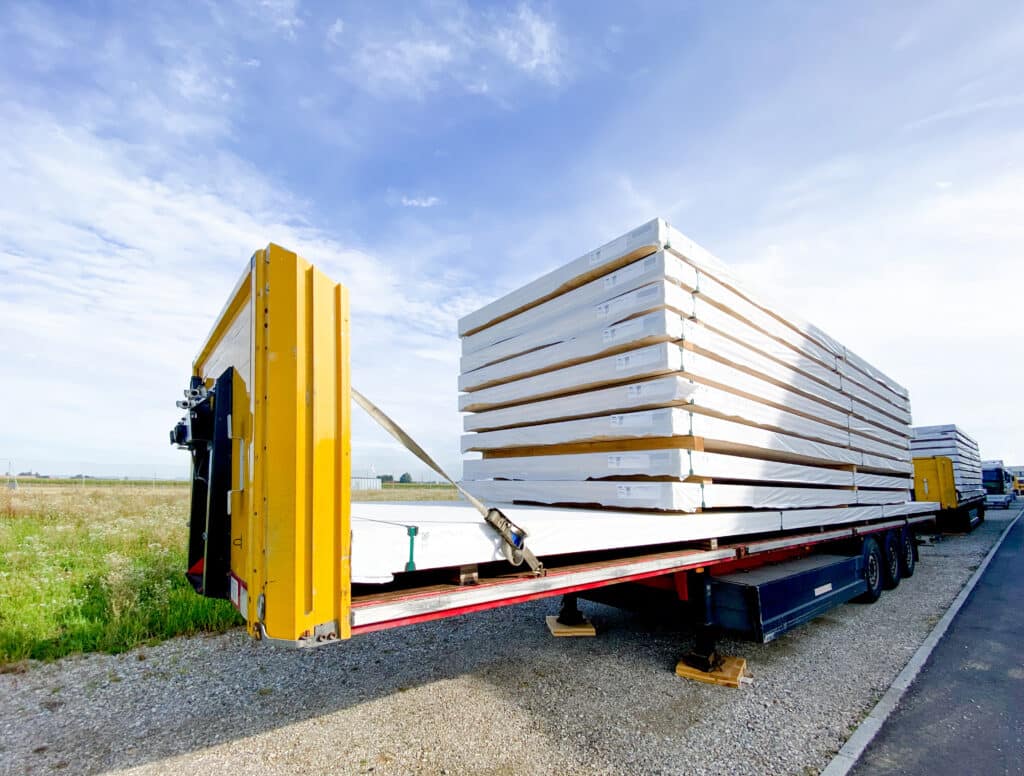 With our truck
fleet, we have so far only served our own orders.  
In order to make the transports even more sustainable and economical, we also offer our transports as a service.
We also transport CLT and other large-format wooden components for your projects. Always in XXL format, of course: excess width or length is no problem. In Austria we have a permanent permit up to 3.50 m wide and 20.5 m long on all our vehicles.
For Germany, Switzerland, Belgium, Luxembourg and the Netherlands we have a permanent permit up to 3.0 m wide.

Our fleet consists of 3 tractors and 20 open trailers.
Permanent permit for excess width up to 3.5 m in Austria and 3.0 m in Germany, Switzerland, Belgium, Luxembourg and the Netherlands.
Our speciality is flexible construction site logistics. For orders with several deliveries, we park the trailer at the construction site. We then drive back empty for the first delivery. The fitters can move the material at their leisure. For the last delivery, we then take a trailer "piggyback" and save a journey.
Life cycle assessment: Wood performs better than before
In Switzerland, an updated version of the so-called KBOB list, which maps environmental impact points, primary energy and greenhouse gas emissions, was published at the end of April. Wood products now score significantly better than before. This could be exemplary for Austria.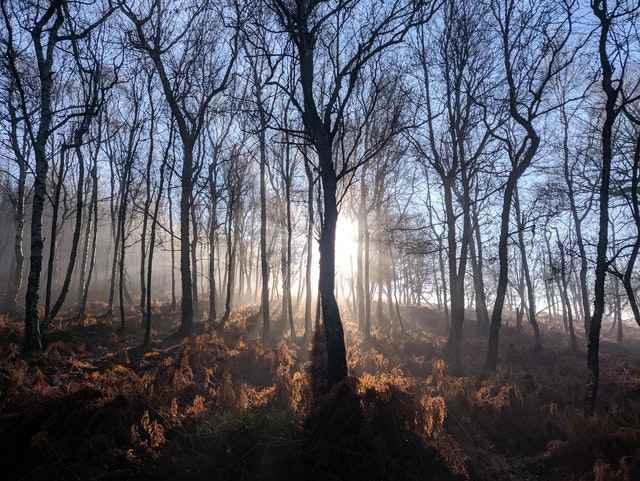 The life cycle assessment of buildings is becoming increasingly important. This requires a solid data basis that includes both the construction phase and disposal. The KBOB list, "Life Cycle Assessment Data in the Construction Sector", which is published by KBOB, ecobau and IPB jointly published, makes it possible to assess environmentally relevant impacts of buildings according to a uniform data set. A significant innovation concerns the shift in the calculation from pure CO2-emissions towards CO2-memory.
According to this year's update, each kilo of solid construction timber used can be equated to a carbon store of 0.45 kg, according to KBOB. In bio-based building products such as wood, CO₂ is stored in the long term. This is well known. Until now, this fact has generally been disregarded in environmental data. What is new is that wood used in buildings can now be included in the CO2-reduction in the calculation.
What is also new is that glued wood products now perform better with regard to greenhouse indicators. For glulam, for example, there has been a serious change. "Here it has been shown that the expenses in production are significantly lower than previously assumed," explains Dr. Rolf Frischknecht, who heads the company specialising in life cycle assessment consulting and research. treeze conducts. The situation is completely different for conventional building materials. Concrete, for example, is now rated worse on all three points - environmental impact, greenhouse gas emissions and primary energy.
For those interested in the details, Ecobau has summarised the most important changes via an online information event. The explanations by Frischknecht can be found here. here.
Source: www.holzbauaustria.at, Ecobau, Lignum
Building law
Does the construction of a carport require a building permit or notification in Upper Austria?
Text according to the province of Upper Austria (21.06.2022):
https://www.land-oberoesterreich.gv.at/29743.htm
After the Oö. Building regulations are sufficient for a Carport up to 50 m² Built-up area before construction a building notification (§ 25 Abs. 1 Z. 9 Oö. Bauordnung 1994); for larger carports a building permit would be required. The prerequisite is that a carport (= protective roof) is actually present. If the structure is "predominantly enclosed" and thus can already be assumed to be a building, a building permit would only be required up to a built-up area of 35 m2. m² a notification obligation exists and, in addition, a permit is required (cf. the definitions of shelter and building in § 2 line 12 and line 23). Oö. Building Technology Act 2013).
Non-residential ground-floor, single-storey and detached buildings resp. Protective roofs, each with a built-up area of up to 15 m2in so far as they are located in building land according to the zoning plan and in accordance with the building regulations applicable to them. resp. The following provisions of spatial planning law, in particular those of the zoning law resp. The building authorities do not require prior notification of construction or approval for construction work carried out in accordance with the development plan. However, in order to clarify whether all requirements are met, we recommend contacting the building authority in advance!
Additional information Leidorf:
The definition of a shelter is as follows:
Shelter roof: a roofed, accessible structure not enclosed on all sides, which serves primarily to protect against the effects of the weather, such as open stand structures, flying roofs, pavilions and the like, insofar as it is not a building.
Information on this: 2 sides must be open so that it is a shelter and not a building.

Further information
The trade fair for robotics in the wood industry
TimberBot Event on 13.05.2022
Here are some impressions from the TimberBot in Berlin.
Berlin is to become a timber construction competence centre by 2030 and we want to promote this development. In addition to attracting the timber industry, 5,000 flats in timber construction are to be built at the old Tegel Airport in the Schumacherquartier. TimberBot is to become the leading trade fair for robotics and automation in the wood-based materials industry.

To this end, we have recruited 8 experts from research and development as well as from the private sector as speakers for this hybrid event. Our speakers from Austria, Switzerland, Germany, Canada and the USA will present knowledge and best practices.
Next TimberBot Event on 14.10.2022
Scenario 1: Timber construction gains in importance
"However, the limited regional supply of the raw material also shows where the limits of this construction method lie and underlines that raw material production and demands must be considered holistically."
Excerpt from: Scenario process "Building 2030
Brief report: Future scenarios for planning, building, operating and dismantling in 2030, Fraunhofer IAO 2022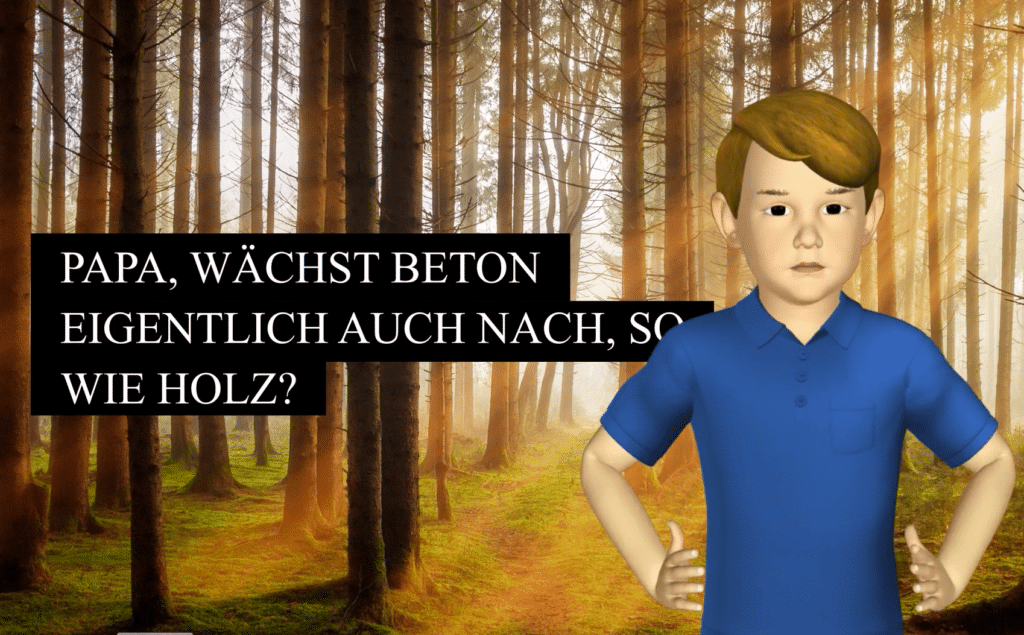 Markus Derix on the "Prospects for timber construction
The sustainability of wood as a building material explained in clear terms.
30 million solid cubic metres of wood grow back every year in Germany alone.

2,100 m3 of wood for an office building in Amsterdam grow back in Europe in less than 15 minutes.
Our wood grows back - and where does concrete grow?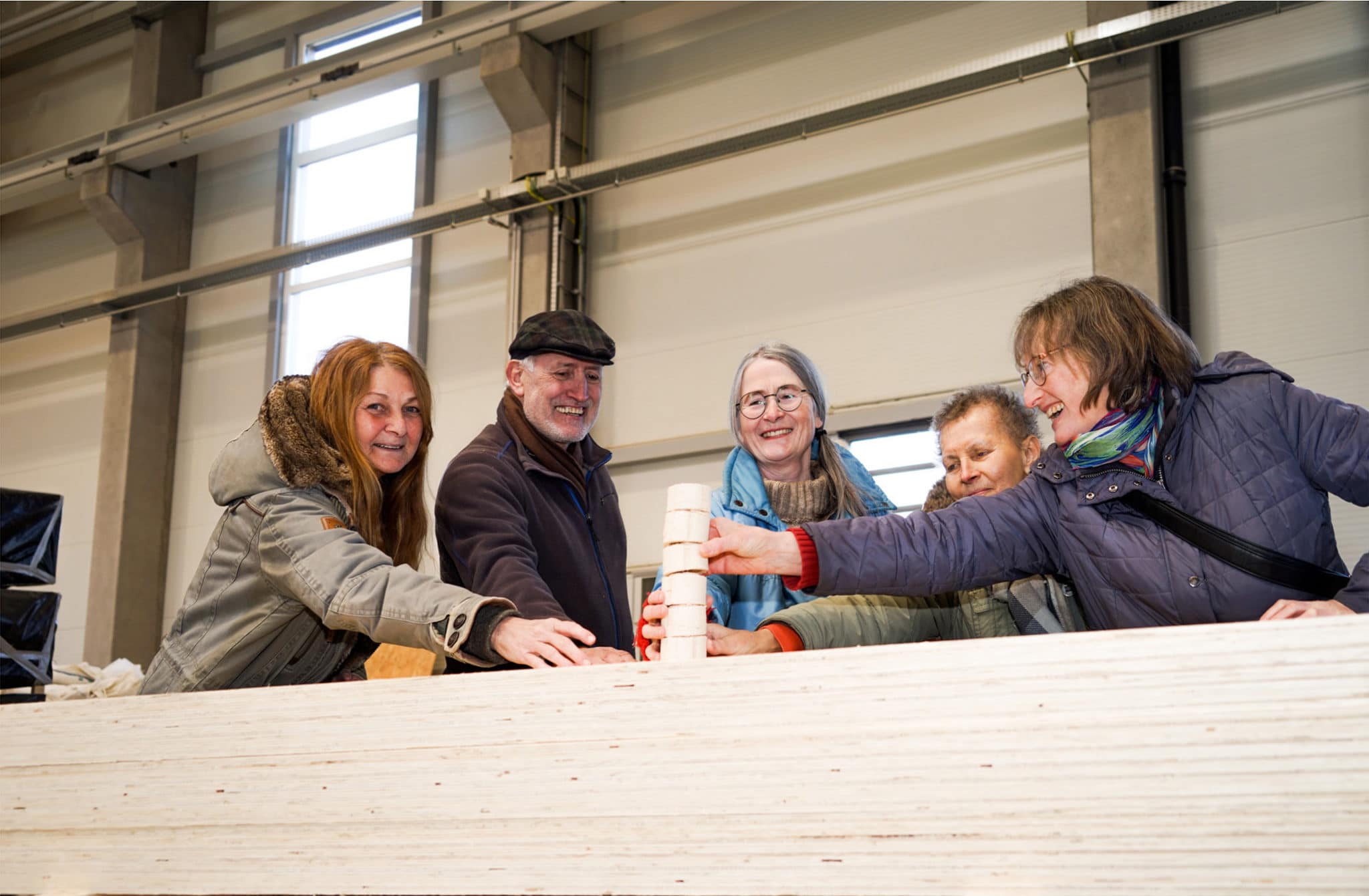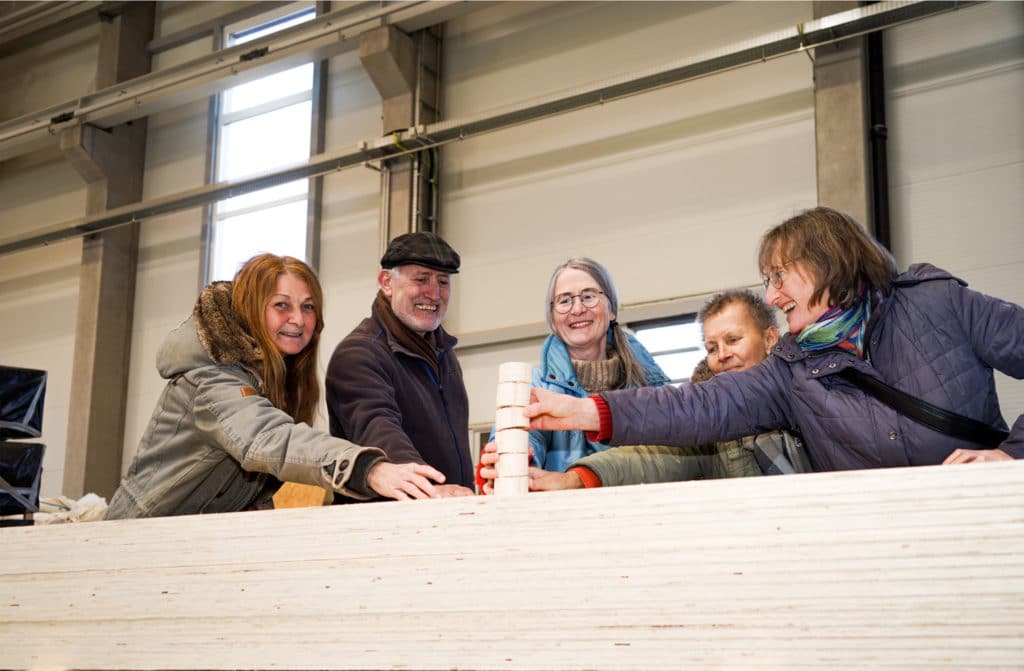 Join in: Donate heat for the needy now
Leidorf Holzbau donates wood briquettes to Upper Austrian food banks
Everything is getting more expensive: electricity, food and also heating. Pellets have just reached a historic high of around €350 per tonne. Especially for people with low incomes, the burden is getting bigger and bigger. The company Leidorf Holzbau from Altheim / Geinberg wants to set an example for more humanity. The company wants to support those who are hit the hardest - with free wood briquettes that are handed out at the Upper Austrian food banks and also at partner food banks in many regions of Austria.
Fundraising campaign launched for the needy
Leidorf has set up a donation page so that even more heat can be donated. At www.Leidorf.com/spenden you can support the action. With a donation of 25€, a family can heat for 1 week. You can also contribute 100 € for heat for one month or 600 € for a whole winter. Donations can be made by bank transfer, PayPal or credit card. Especially interesting for companies: The donation to the OÖ Tafeln is deductible as a special expense in the tax return.
Leidorf Holzbau successfully combats shortage of skilled workers
The shortage of skilled workers is now affecting all companies in Austria. Unfortunately, the Corona pandemic has further intensified this development. That's why the Leidorf company went all out for Simo, a Moroccan, to make employment possible.
GEINERBG. At the beginning of 2021, the Leidorf company received an application from a student. The young Moroccan Simo studied automation technology in his home country. After completing his bachelor's degree, he moved to Poland to study for a master's degree in Poznan. On the internet, Simo found videos of a wood construction robot that was located in the Innviertel region at the Leidorf company. The robot CNC system fascinated the young man. So he sent an application online to Geinberg.
It quickly became clear: Simo is serious
Studies confirm: Wood emissions are not critical
In a 44-page brochure, the fnr has summarised "Living with wood - Influence of wood emissions on residential health". It provides information on the emissions of volatile organic compounds (VOC) caused by wood and wood products and summarises the latest scientific findings on this. It is based on 12 research projects that the Federal Ministry of Agriculture funded with a total of 3.6 million euros from 2015 to 2019.
No evidence of health risks 
A research network under the leadership of the University Medical Centre Freiburg was responsible for the health assessment of emissions from wood and wood products in indoor spaces. Studies were carried out on the lungs, eyes, skin and nerves, among other things.
With the result: "that to date there is no convincing evidence of clinically relevant effects after exposure to indoor concentrations of wood emissions". A risk to humans from the release of emissions from wood and wood products into indoor air is not apparent.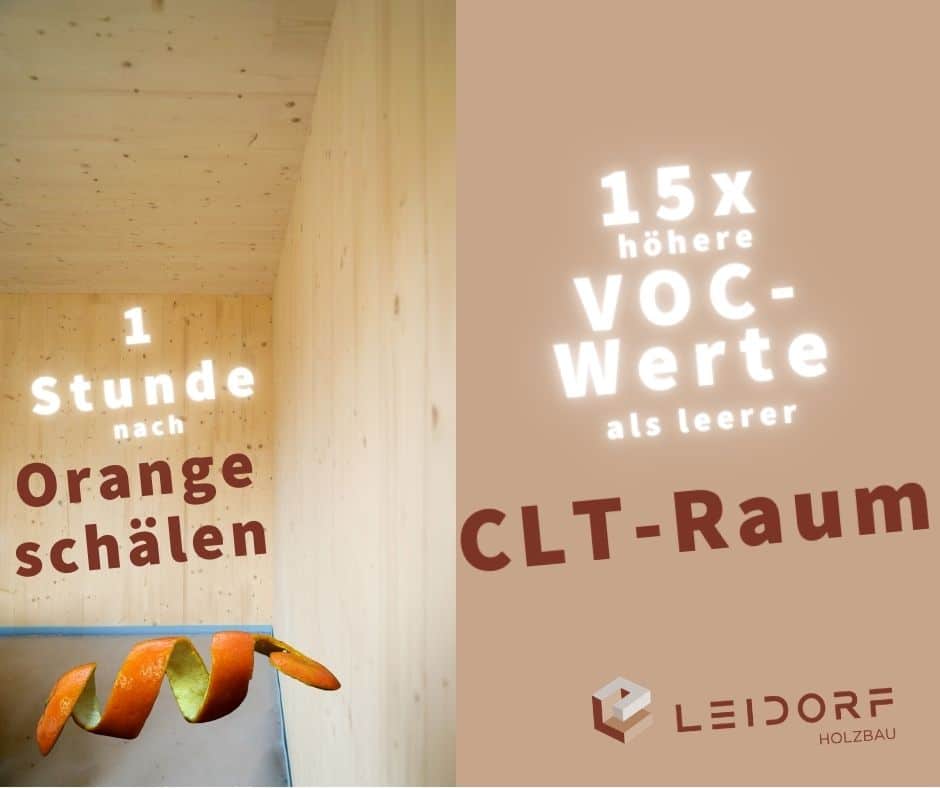 What influence do CLT walls have on the air quality of living spaces?
In a research project of Holzforschung Austria and Wood k-plus in Tulln, the indoor air quality of a CLT room was investigated.

To get a realistic picture, the CLT room was expanded step by step and subsequently also used.

The tests make it clear that the indoor air quality of the pure CLT construction is very good.

CLT - Space:
Very good indoor air quality
However, the use of the room has a significant influence on the measured VOC concentrations.

An example: When peeling an orange, the VOC emission briefly rises to 37.5 times that of the empty CLT room. After one hour, the VOC levels are still 15 times higher than the empty solid wood room.

Use influences indoor air quality
The following use scenarios were investigated:
Burning scented candles

Cleaning with all-purpose cleaner

Application of an electric air freshener

Cigarette smoking

Lighting an ethanol stove

Carrying out a cooking process

Application of cosmetics

Peeling oranges

Application of parquet care products or wood polish
The research report states: "When a room is permanently used as a living or working space, a significant change in indoor air quality compared to the unoccupied room can thus be assumed."
In concrete terms, this means that the indoor air quality of the CLT-only room is very good. As the example of the Orange shows, it is the use that is responsible for much higher VOC emissions.
Source: Wood K plus, Holzforschung Austria, IBO Innenraumanalytik OG, Techn. Büro für Chemie Dr. Karl Dobianer - VOC emissions from wood products and indoor air quality, Summary of the final project report 2012 - 2014, 2015
Investment despite Corona - New construction of the Wood Competence Centre in "Wood Valley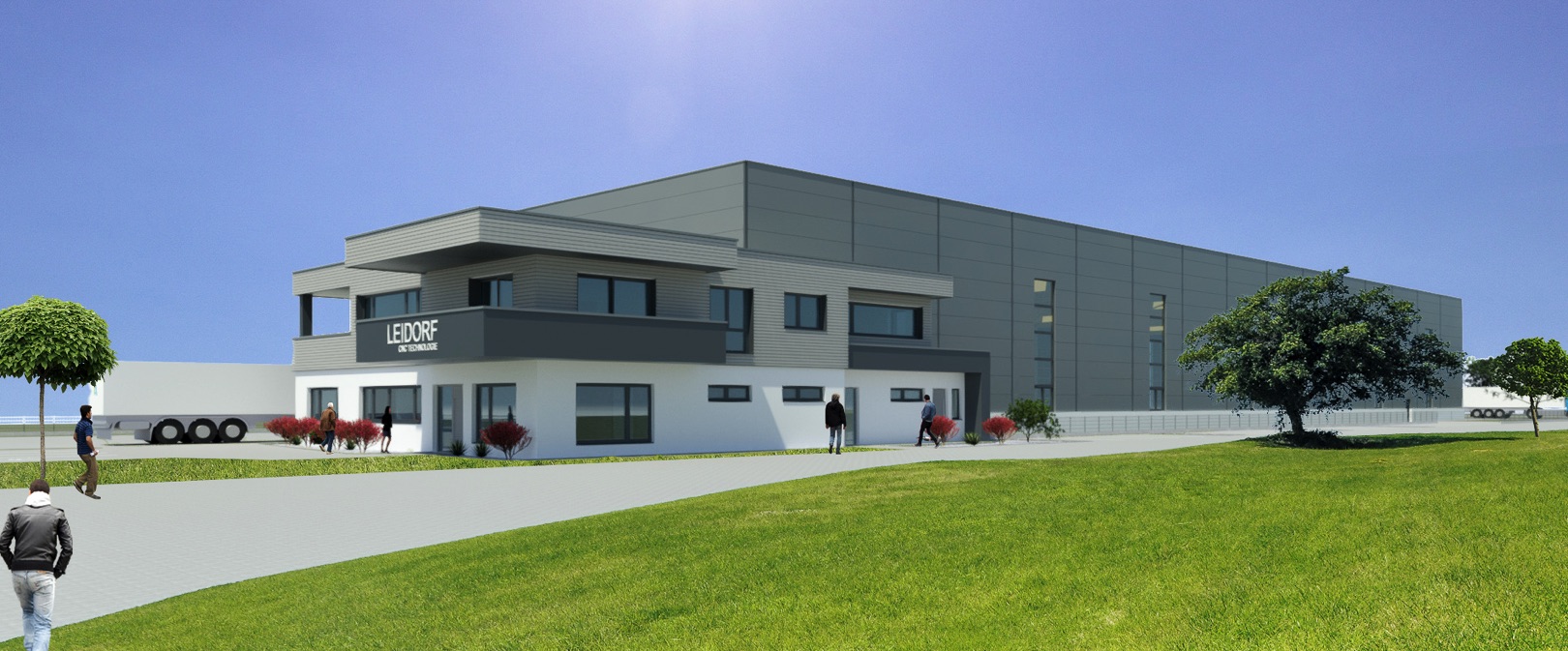 In 2015, Alexander Leidorf brought about a small revolution in timber construction by developing a state-of-the-art robot system for the CNC machining of XL wooden parts. The decision proved to be the right one - expansion is already the order of the day. Leidorf is investing 5 million euros in the construction of a new factory building at INKOBA's Altheim-Geinberg site. This will also create numerous new jobs that require high qualifications.
Webinar "Robotics in timber construction
Webinar "Robotics in Timber Construction II
Alexander Leidorf, Managing Director of Leidorf GmbH, founded the start-up for robotic CNC machining in 2015. Before starting his own business, Mr Leidorf worked for Wiehag Timber Construction as a manager in timber element construction. So he is a full professional when it comes to prefabricated timber construction. His specialisation is the special trimming of timber elements made of CLT / cross laminated timber, Kerto, glued laminated timber and almost all derived timber products. His products are used in multi-storey residential construction, bridge construction and for free-form timber constructions. Well-known customers such as Wiehag, Rubner Holzbau, Mayr Melnhof Holz, Store Enso, Züblin Holzbau, KLH work with Alexander Leidorf. Here, the knowledge and the special robots are a guarantee for his success.
There are only a few robot plants in timber construction. Most of them have an academic background. The only plant that also earns money is at Leidorf in Austria.
The programme of the webinar:
16:05 Welcome Andreas Lerge / Tobias Müller-Nischwitz
16:10 Presentation Mr Leidorf / Leidorf Gmbh
16:15 Short presentation on manufacturing / production / expertise for real freaks!
16:30 Answering the questions from the chat
16:50 Conclusion / Farewell Andreas Lerge and Tobias Müller-Nischwitz
When? 05.11.2020
Time: 4:00 - 4:50 pm
Decided: THE HYBRID CITY CHALLENGE
The winning project of the Hybrid City Challenge deals with an architectural icon: the Seagram building by Ludwig Mies van der Rohe in New York. Jose Gustavo Garzon reworks the structure of the skyscraper completed in 1958 and combines the steel-concrete construction with a sustainable timber construction.
The design presents a hybrid system with a concrete and steel core that gradually transitions to a wooden frame on the outside and upwards. The solution shows a good understanding of the different materials and uses their best qualities to create an optimal combination, the jury said. Second prize went to "Alexandra Road Estate Reimagined" by Frederick Pittman and "Villa Mokum, mostly wood, some steel and a concrete base" by Jasper Middelberg.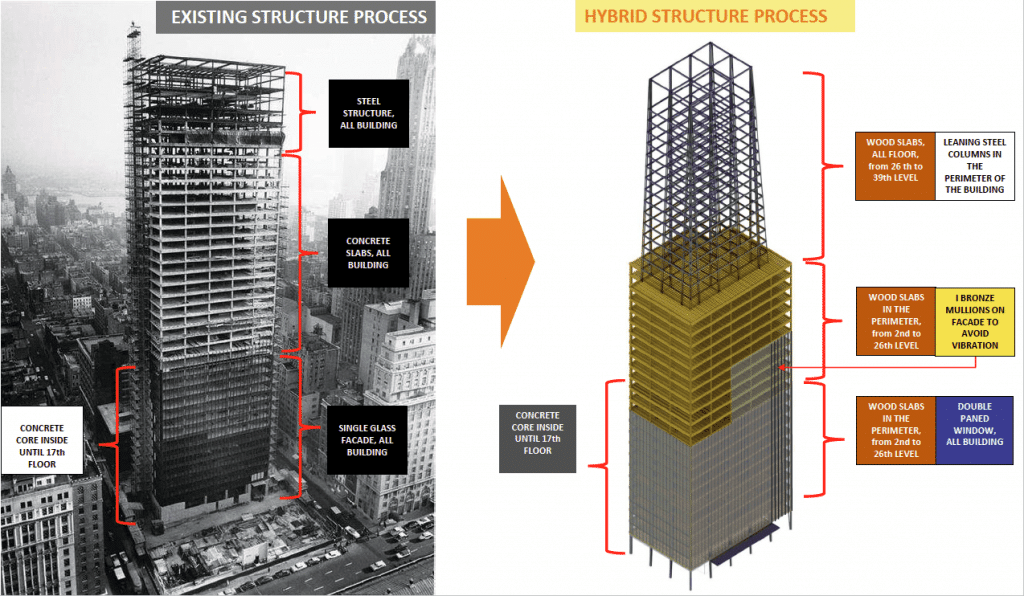 The Hybrid City Challenge was launched on the open source wood platform. You can find more information here:
THE HYBRID CITY CHALLENGE
Construction alone consumes 50 % of global resources. However, change will only happen if the efficiency of building systems is not compromised in the process. The world needs a Plan B.
for the most innovative solution
Participants select an existing multi-storey building that is not constructed of wood-based materials, choose an element used in this building and rework it using Kerto® LVL laminated veneer lumber as the main material.
Metsä Wood's Hybrid City initiative aims to find ways to make construction more sustainable and still efficient by using existing construction methods.
Metsä Wood invites civil engineers and construction companies to join an initiative to discover world-best methods of building: more efficient, sustainable, modular and practical.
You can access the Hybrid City Challenge via the Open Source Wood platform.
Deadline for entries is 31 May 2020after which a group of experts from the Open Source Wood community will select the winners. The most innovative solution wins € 10,000 and the runners-up are awarded € 5,000 each.
We offer these materials for the
Hybrid Construction & Kerto
BSH
Glulam, often called "glue laminated timber
other
Panel materials such as 3-layer boards, plywood,...
...a team of specialists and unique machines make the Leidorf company your partner for any kind of woodworking. No challenge is too big for us - literally!
Because we are the only company to manufacture individual XL requests in 3 to 7-axis simultaneous CNC processes with a machining length of over 40 metres and a machining width of over 3.5 metres.
With this technology, free forms and undercuts can also be implemented.
.
In addition, we offer solutions for
Logistics
Loading suitable for the construction site until delivery to the construction site
A house made of CLT is built in only 6 days