Reference projects Laminated veneer lumber | Kerto | LVL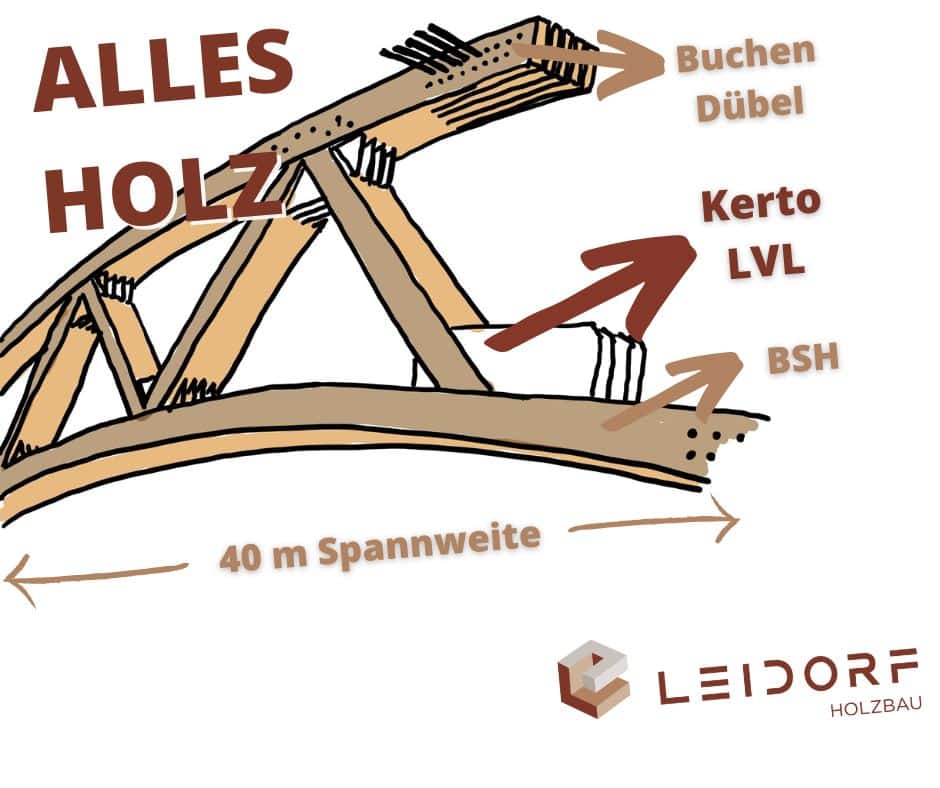 40 m span
28 m height
without steel in the main structure
Wood, wood, wood connection.
The huge span of the new Mülheim airship hall of over 40 metres is being built without a single piece of steel in the main supporting areas.
As a long-standing partner of Derix, we supply the formatted and coated "slotted panels" made of Kerto | LVL for the project.
The dimensions of the supporting structure are overwhelming: 40 m span and 28 m height - built from the high-tech material wood.

You would like to know more about the construction of the new airship hangar Mülheim?
Here is another link to the construction diary:
Kerto | LVL
Platform canopy
Kerto | LVL
Platform canopy
Kerto | LVL
Platform canopy
Kerto components
after joinery
Experience nature with all senses
A mobile high-tech observation trolley now stands in Eckartsau Castle Park. The bionic support structure was realised with our robot joinery system made of Kerto LVL.
Wooden Garden Lounge
with a supporting structure made of Kerto / LVL
Info and photos: www.strohboid.com
KERTO / LVL
Centre Parcs Waterside Lodges, Elveden Forest, UK
Metsä Group's visitor centre, Äänekoski, Finland, Image: Sami Karppinen
XL Robo-Cut
Our innovative robot CNC Allage
Photographer: Doris Himmelbauer, www.dhimmelbauer.com
Recycling centre in Augsburg
Acoustics and statics cleverly combined with Kerto / LVL


Laminated Veneer Lumber (LVL) offers the following advantages:
High strength and stability: LVL consists of several thin layers of wood that are glued together. This creates a building material with high strength and stability that can withstand both axial and lateral loads.

Consistency and uniformity: LVL is produced in a controlled manufacturing process, resulting in a consistent and predictable material. Variations in properties are smaller compared to natural wood.

Design flexibility: Due to its consistent properties and strength, LVL allows for more sophisticated designs and longer spans in construction projects, giving architects and engineers more freedom in design.

Environmental friendliness: LVL uses wood from sustainable forestry and reduces the need for solid wood, which contributes to the conservation of natural resources. The manufacturing process produces less waste than traditional wood cutting.

Fire protection and thermal insulation: LVL has better fire protection properties than conventional wood and also provides some thermal insulation due to its structure.

Less warpage and shrinkage: The manufacturing process makes LVL less susceptible to warping, shrinkage and deformation compared to natural wood.

Light weight: Despite its strength, LVL is lighter than solid wood, which makes it easier to transport and assemble.

Use of long wood fibres: LVL uses longer wood fibres compared to other wood products, which increases its stability and load-bearing capacity.

Versatile applications: LVL can be used in a wide range of building projects, including beams, joists, columns, trusses, rafters and flooring.

Reduced waste of resources: By using wood waste and low-grade wood in its production, LVL contributes to reducing the waste of wood resources.
The exact benefits of LVL depend on the requirements and context of a building project, but overall it offers an attractive combination of strength, stability and environmental friendliness.