CLT / cross laminated timber
Solid like a stone house - sustainable like a wooden house. 
Cross laminated timber therefore combines the best of both worlds. 
In a CLT wall - as the material is also called - you can hammer a nail into the wall without hesitation and hang something up. 
At the same time, I am building a massive CO2 reservoir with the solid wood.
Single-family house:
Tight in only 3 days
Source: Housing in wood, arguments and built examples, proHolz Austria, September 2018
We are very flexible when it comes to the façade design. For example, wooden cladding can be applied. A combination with cladding made of sheet metal or wood materials is also possible.
But a plaster façade is also possible. This makes your house look like a solid building - with solid walls but made of wood and not brick or concrete.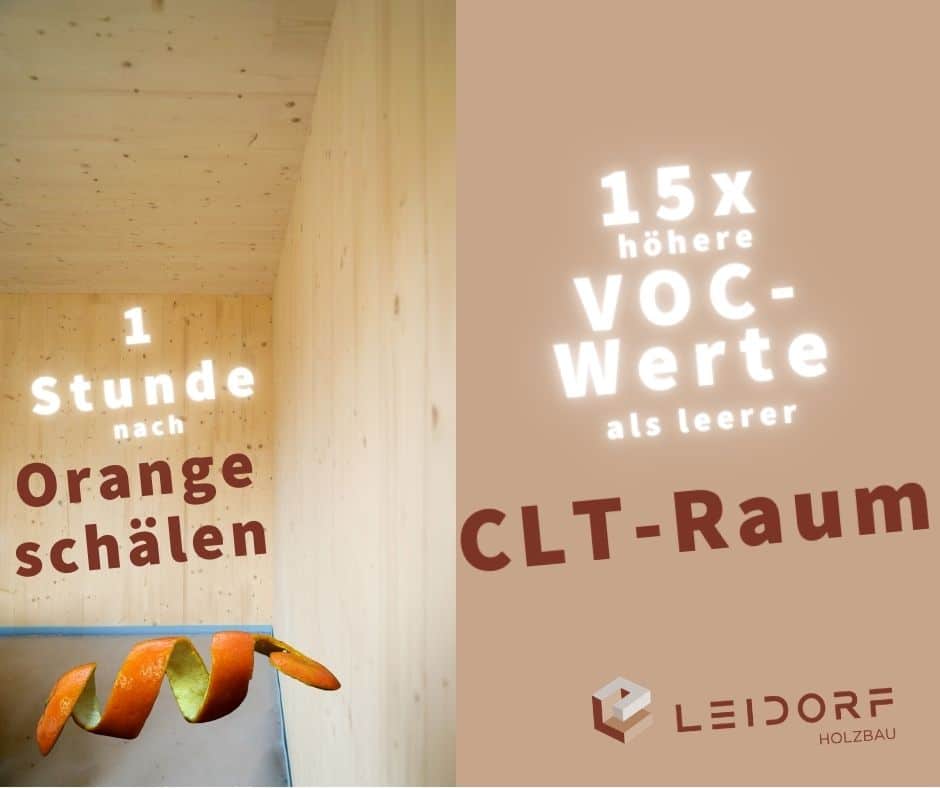 What influence do CLT walls have on the air quality of living spaces?
In a research project of Holzforschung Austria and Wood k-plus in Tulln, the indoor air quality of a CLT room was investigated.

To get a realistic picture, the CLT room was expanded step by step and subsequently also used.

The tests make it clear that the indoor air quality of the pure CLT construction is very good.

CLT - Space:
Very good indoor air quality
However, the use of the room has a significant influence on the measured VOC concentrations.

An example: When peeling an orange, the VOC emission briefly rises to 37.5 times that of the empty CLT room. After one hour, the VOC levels are still 15 times higher than the empty solid wood room.

Use influences indoor air quality
The research report states: "When a room is permanently used as a living or working space, a significant change in indoor air quality compared to the unoccupied room can thus be assumed."
In concrete terms, this means that the indoor air quality of the CLT-only room is very good. As the example of the Orange shows, it is the use that is responsible for much higher VOC emissions.
Source: Wood K plus, Holzforschung Austria, IBO Innenraumanalytik OG, Techn. Büro für Chemie Dr. Karl Dobianer - VOC emissions from wood products and indoor air quality, Summary of the final project report 2012 - 2014, 2015