Timber construction
As a specialist for cross laminated timber, we build single-family houses, office buildings, extensions and even high-rise buildings from this sustainable building material. In addition, we are a premium stockist of Kerto / LVL / laminated veneer lumber. We also trade and process BauBuche.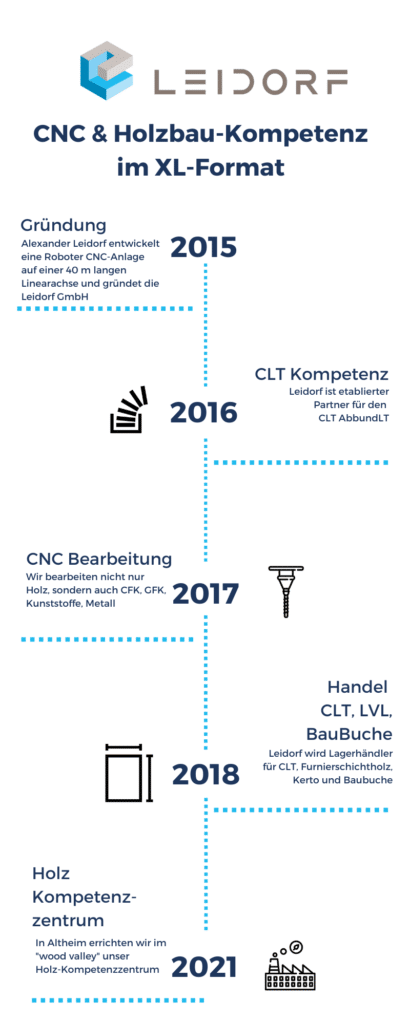 "In 2015, we broke new ground in timber construction and developed a state-of-the-art robotic CNC system. It quickly became apparent that the novel technology is ideal for CLT processing. In 2018, we also entered the CLT, laminated veneer lumber, Kerto trade. We serve the fast-growing timber construction market here."
Technology leader in the
Robotics in timber construction
After its foundation in 2015, Leidorf quickly developed into a competent partner for the CLT industry and the wood industry. Thanks to the flexible robot technology, even complicated geometries or undercuts can be implemented. This distinguishes the Leidorf technology significantly from the common systems that work with a gantry.
CNC machining of
(almost) all materials
In addition to woodworking, another business area was established. Large-format CNC trimming of CFRP, GRP, plastics and metals. Here we are a service provider for the high-tech industry - from aircraft construction to racing.
24 employees
in Upper Austria
The Leidorf team has grown steadily in recent years. Our 24 employees are looking forward to your project!