Leidorf timber construction
External planning of solid wood construction / CLT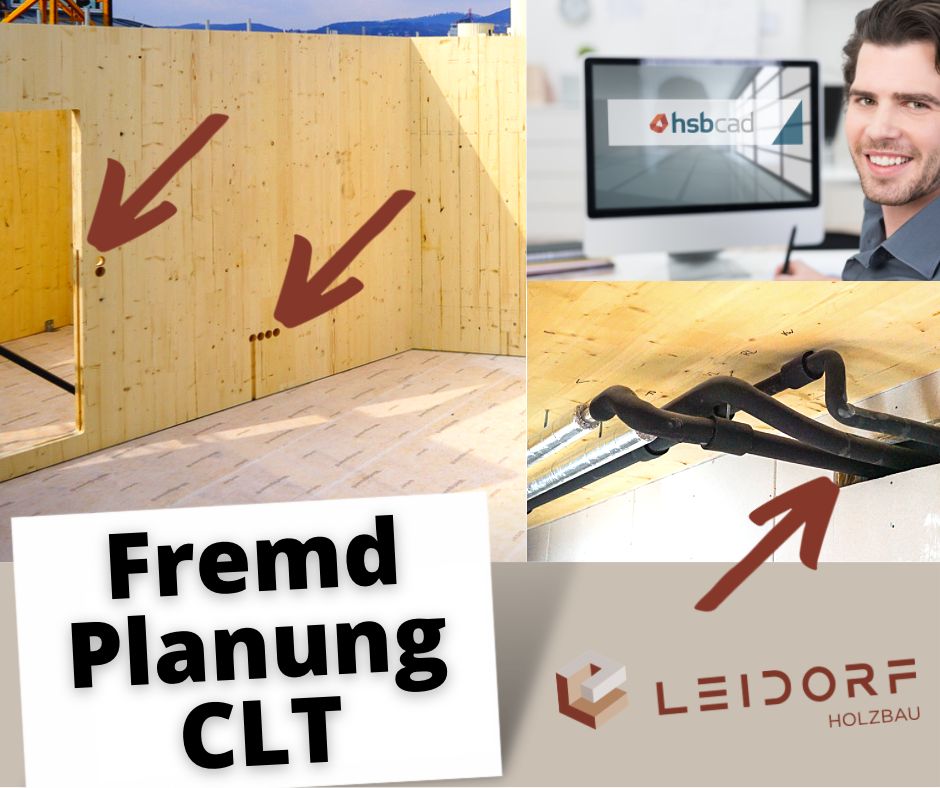 Planning of the electrical installations and empty pipework
Breakthrough planning
Static pre-dimensioning
Planning the joint formation (step seam / rebate board)
Sound insulation between floors
Kerven for wood-concrete composite floors
Moisture protection of the ceiling elements during installation
Optimisation of panel widths
Optimised nesting for maximum raw material yield
Timber construction production planning cross laminated timber
Penetrations, socket holes, routing for empty electrical conduit,...
We are happy to support you in the planning of your solid wood project, also as a third-party planner. This way, we can advise you on the selection of a suitable CLT supplier. Because not every manufacturer offers all panel thicknesses or narrow-side gluing. We additionally optimise the material consumption with a CLT nesting. We are also happy to determine a loading sequence optimised for the construction site. 
External planning CLT -
Make a request now
Leidorf Holzbau - Your complete CLT supplier
With us, you get everything from a single source: from cross laminated timber procurement to delivery to the construction site. This includes, for example, timber construction planning, CLT joinery and also logistics:
Manufacturer
We source CLT | BauBuche | Kerto / LVL from over 15 manufacturers, mainly in Austria and Germany - Kerto also from Europe.
Logistics
With our fleet of trucks, we collect the material from the manufacturers and bring it to our production facility in the "wood valley" Altheim.
Timber construction production planning
We take over the timber construction production planning for you. We work with hsbcad - a software that is very common in timber construction.
CAD / CAM
For our production we create a so-called "nesting" and a CAD / CAM planning.
XL Robot
We machine the components for you with our robot CNC system. No geometry is too complex for us. Whether round or triangular - with our robot system we can cut almost any shape.
Prefabrication in the factory
Unlike many CLT fabricators, we also install windows or doors in the factory.
Logistics
We deliver the tied CLT | BauBuche | Kerto / LVL to the construction site with our own trucks. Our 17 special trailers have special permits for Austria Germany and Switzerland.
Assembly
The prefabricated parts are assembled at the construction site. This is usually done by our customers themselves. We are also happy to offer assembly together with our partners if you are interested.